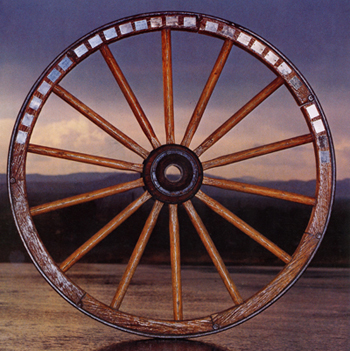 The Mormon pioneers crossed the plains of North America in the mid-1800s, many of them atop covered wagons that rolled across the dry grass. Today a wagon wheel continues to travel between Provo and Logan, Utah. It doesn't carry people; it carries the pride of the Cougar and Aggie football faithful.
The Old Wagon Wheel became a part of the BYU-Utah State rivalry in 1948. Awarded by the Blue Key fraternities of the two schools, the Aggies took it home the first year after a 20-7 defeat of the Cougars. Since 1948, the wheel has covered many a mile between the two schools as their rivalry has grown.
Although Utah State dominated the early years of the wheel's existence, taking 18 of the first 27 victories where the wheel was at stake, the tables have turned in recent decades as the BYU football team has taken its place among college football's elite. The overall series entering 2019 stands 48-37-3 in favor of the Cougars, and BYU owns a 40-25 advantage since the Old Wagon Wheel was initiated in 1948. 
Winning the wheel on the field is only a small part of the battle between the two schools. Although not practiced anymore, the more entertaining tradition surrounding the wheel is its theft. In years past, the losing school has often sought to reclaim the trophy through less-than-legal means. Despite being done in the "all-in-good-fun" spirit, this tradition has had its share of problems. The wheel has disappeared for years at a time after being taken by parties with no affiliation to either school.