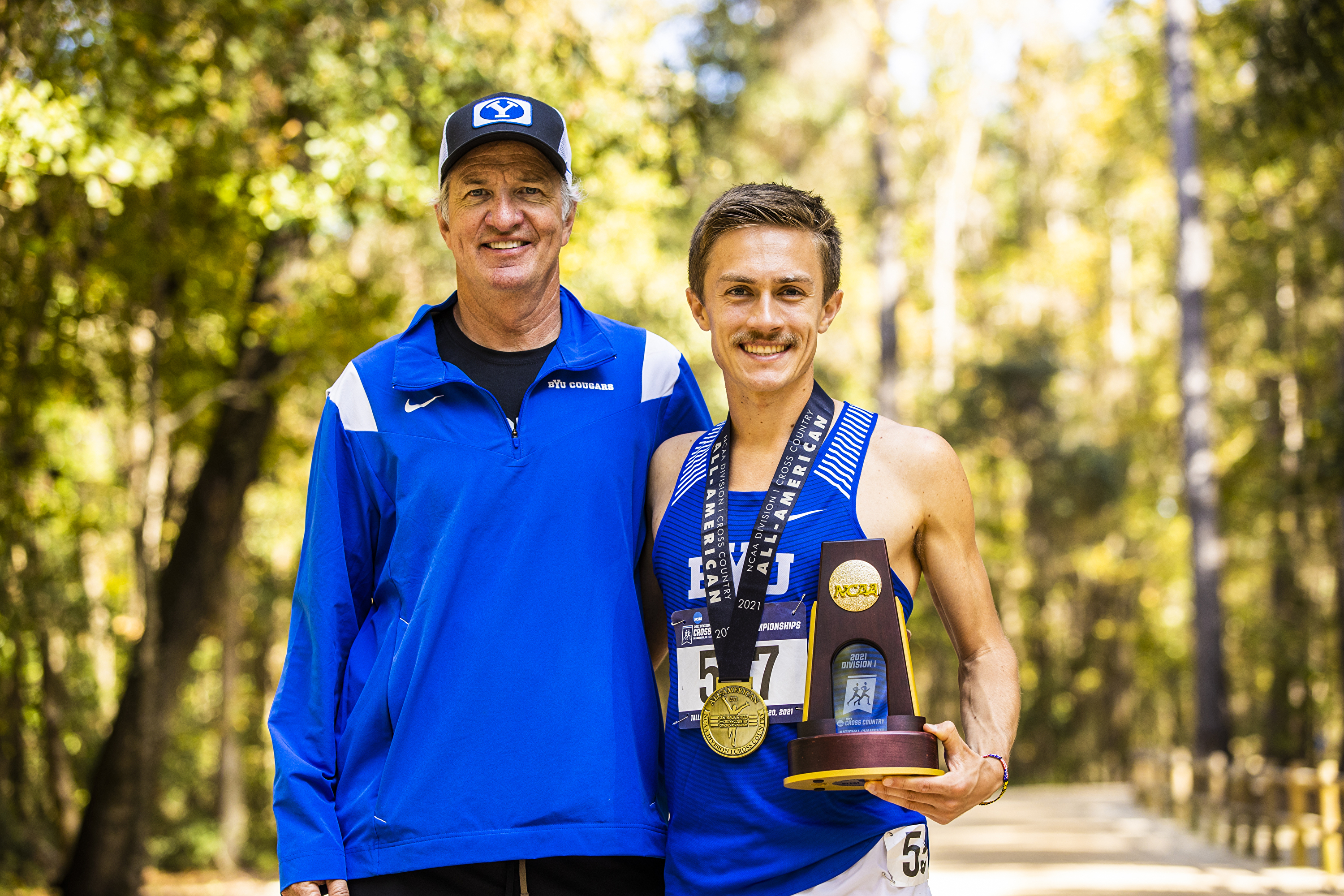 The BYU men's cross country program boasts four NCAA Division I individual champions and one team title over the course of its 60-year history. Current BYU men's cross country head coach Ed Eyestone has contributed to all four national titles, including winning the 1984 individual title. Eyestone coached Josh Rohatinsky (2006) and Conner Mantz (2020-21, 2021) to individual titles while leading the BYU men's cross country program to its first team title in 2019.
2021 - Conner Mantz repeats as NCAA Individual Champion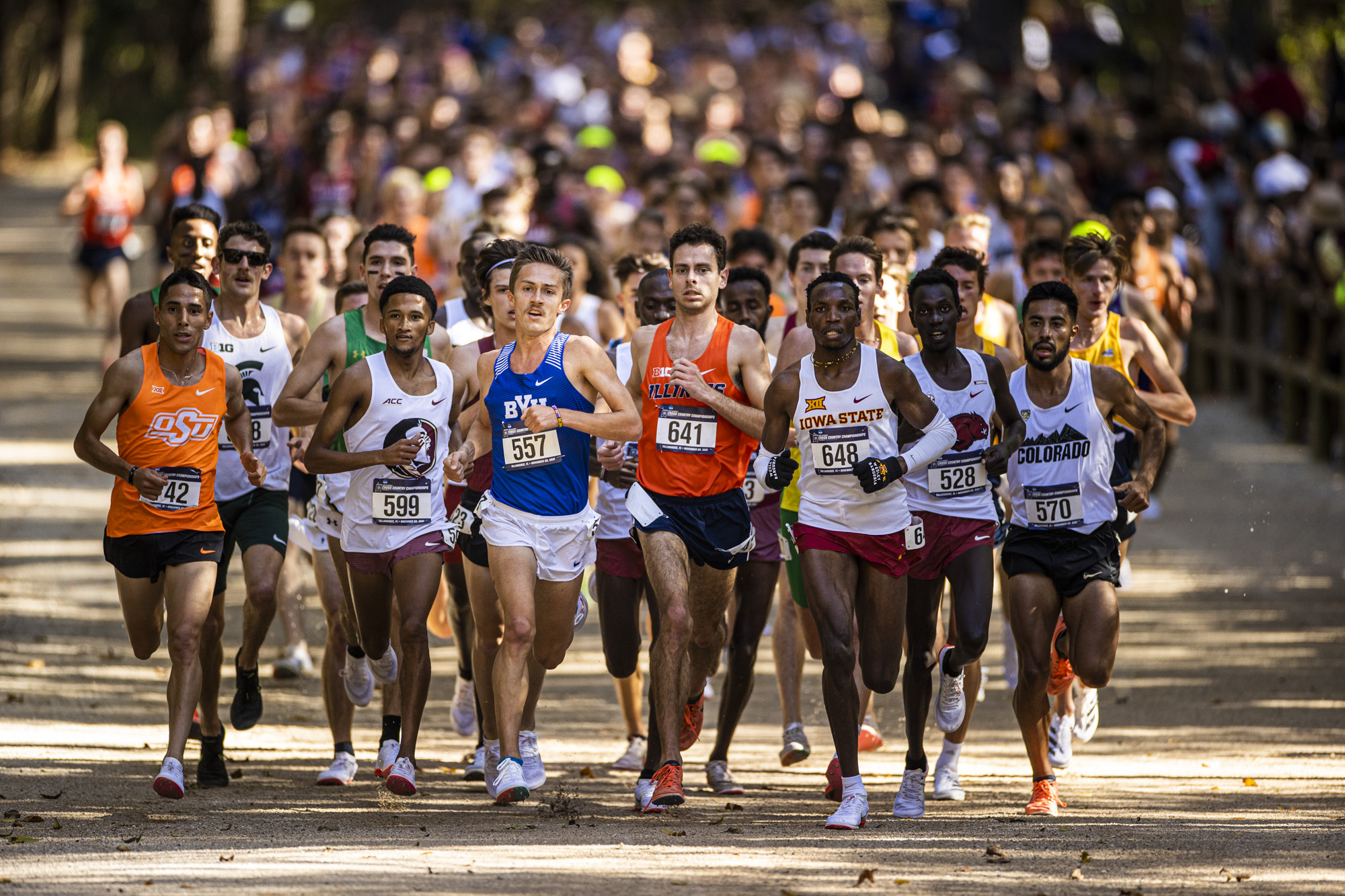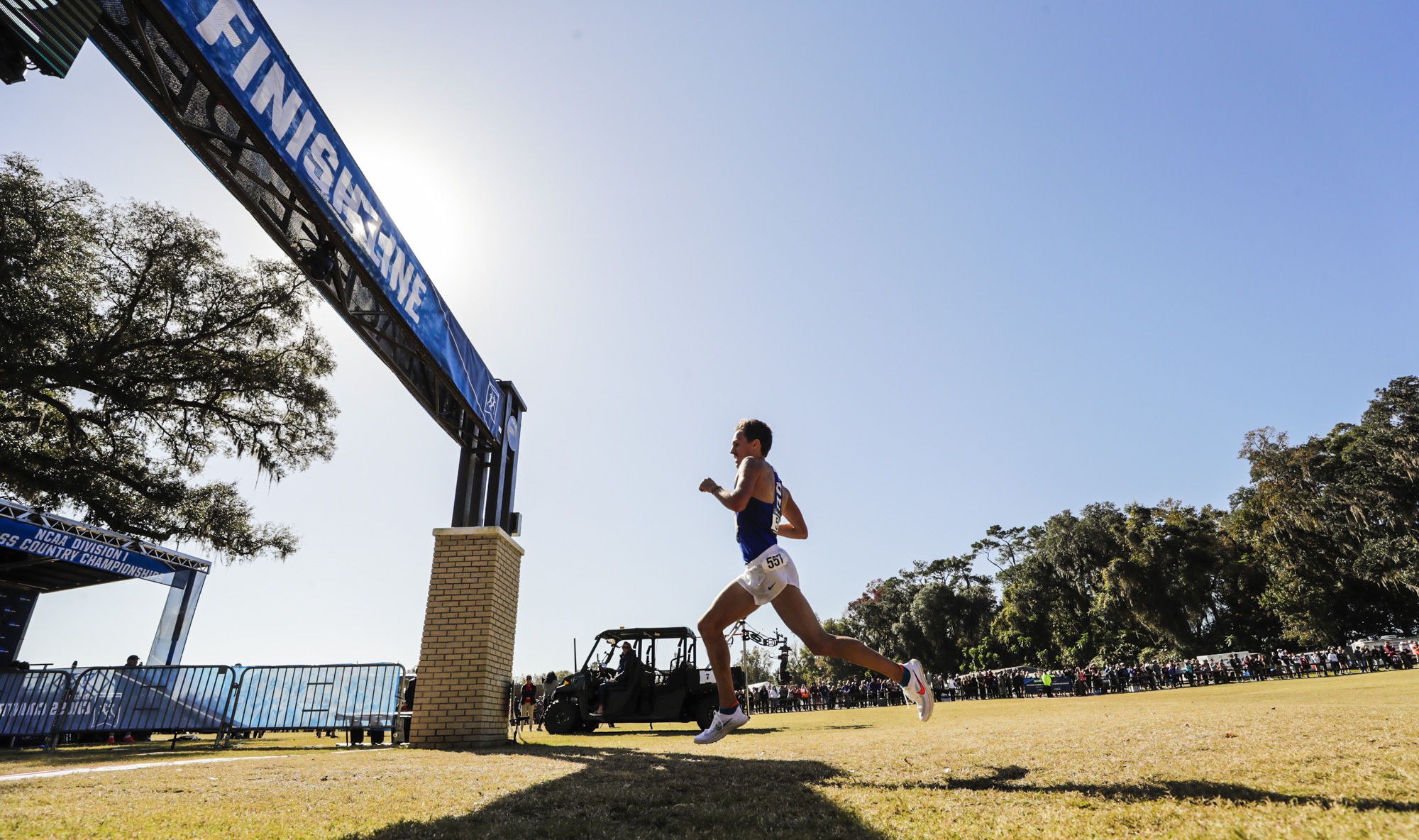 Senior Conner Mantz became the first BYU men's cross country athlete to win a second individual NCAA Division I Championship and claimed the program's fourth individual title overall.
Mantz took home back-to-back titles after clocking a personal-best and course-record 10k time of 28:33.1 at Florida State's Appalachee Regional Park in Tallahassee, Florida.
The Sky View High School product faced and thrived off of the pressure that came with being defending national champion.
"It was tough, and it meant a lot to defend my national title," Mantz said. "Before the race I thought about how everyone is expecting it of me, and I'm expecting it of myself. I had to go out there and show that I am consistently good."
With a second national title trophy in his collection, Mantz wrote a storybook ending to his prolific BYU career. The Smithfield, Utah native recorded top-10 finishes in each of his 22 collegiate cross country meets, including 13 meet wins and nine straight to finish his time as a Cougar. Mantz became the first BYU men's cross country athlete to win three individual conference championships and just the 11th man in the 83-year history of NCAA Division I cross country to repeat as individual champion.
"I don't think any of us can really appreciate the pressure that he was under," Eyestone said. "He responded very well. The mark of a great champion is consistency, and he demonstrated his consistent greatness throughout the year."
2020-21 - Conner Mantz wins NCAA individual title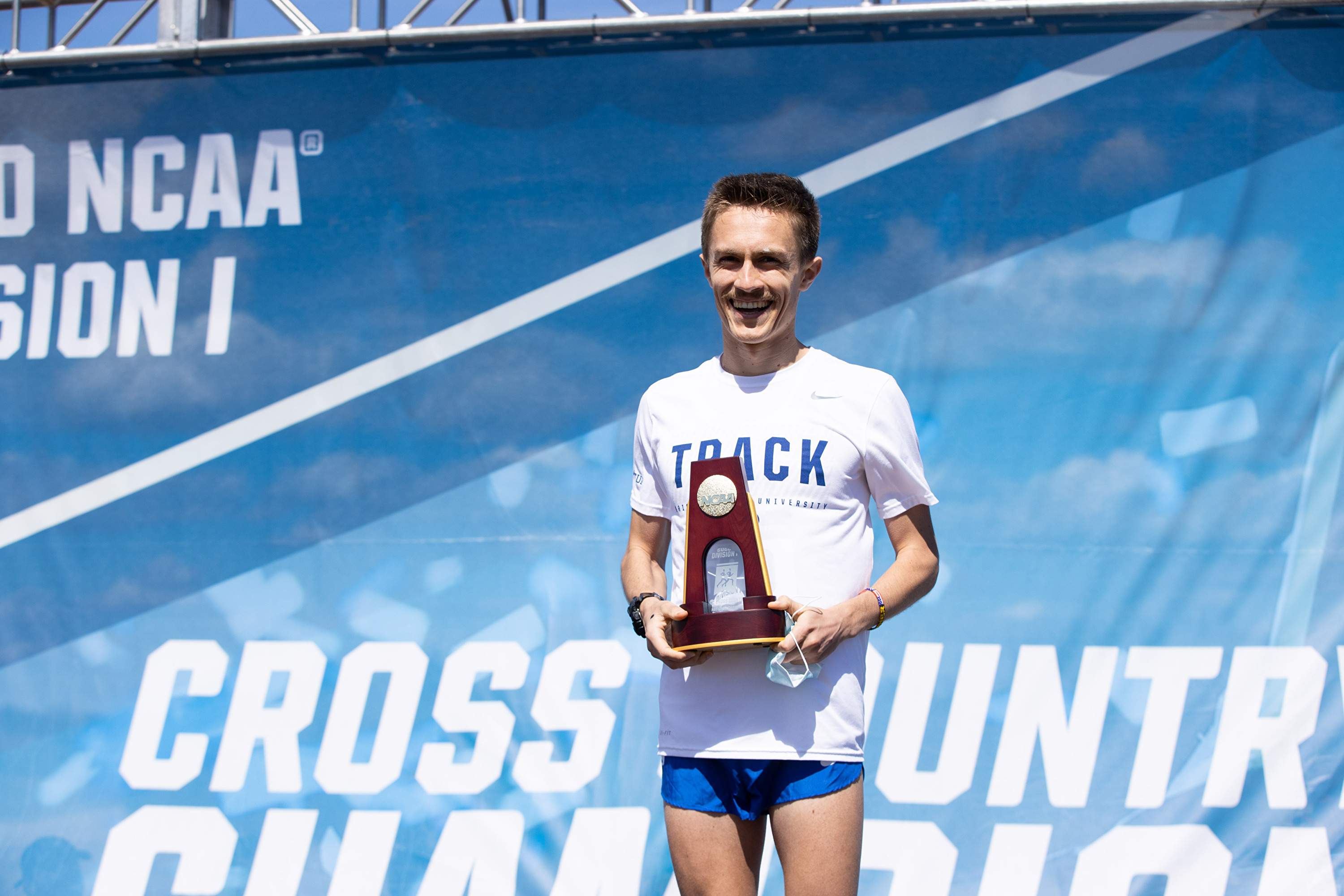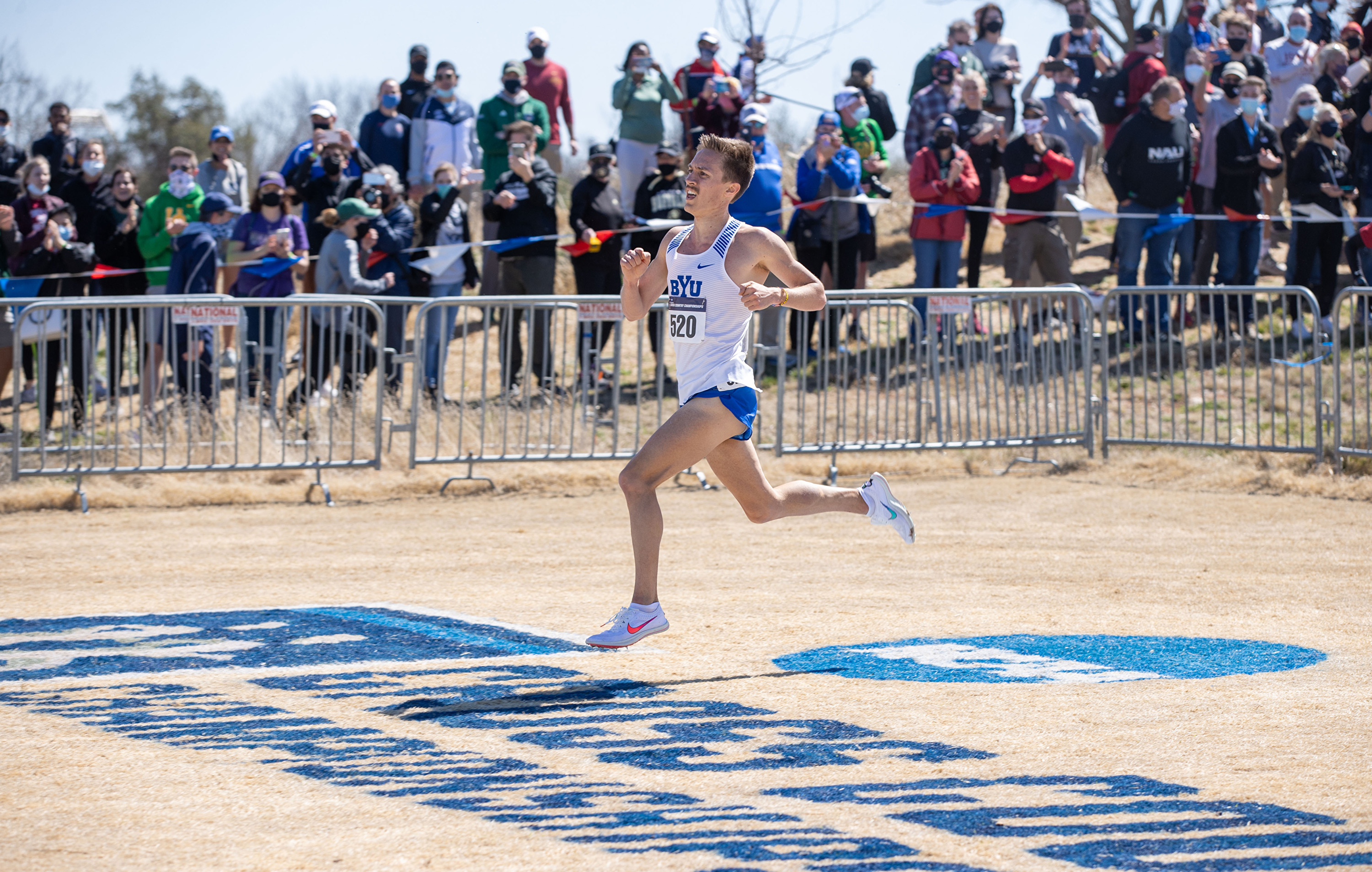 Conner Mantz dominated the field late in the men's 10K to claim the individual title and help BYU men's cross country to a seventh-place finish at the 2020 NCAA Cross Country Championships on the OSU Cross Country Course in Stillwater, Oklahoma.
"I was happy to hold on and win an individual title for my team," Mantz said. "My teammates work so hard and we weren't able to have our best day as a team, but a win for one of us is a win for all of us. I couldn't be more proud of my teammates for giving it their all today."
Mantz patiently remained with the lead pack before picking up the pace in the final kilometer. The junior's burst of speed on the difficult course proved too much for the other competitors as Mantz created a cushion of a couple hundred meters between him and the next runner as he approached the final stretch.
The All-American crossed the finish line in 29:26.1, nearly 22 seconds ahead of the second runner in. With the first-place finish, Mantz joins Josh Rohatinsky (2006) and BYU head coach Ed Eyestone (1984) as the only BYU men's cross country runners to win an individual national title.
"Conner's performance was otherworldly," Eyestone said. "It's been since 2008 since the last American won the individual title. Once he realized he could use his uphill running talent, he pulled away. He crushed them at the end and it was one of the gutsiest individual performances I've seen on the cross country turf before."
2019 - BYU men's cross country wins first NCAA team title

Head coach Ed Eyestone led the BYU men's cross country team to its first NCAA title in program history in 2019. The team was ranked third in the nation coming into the meet behind No. 1 Northern Arizona and No. 2 Colorado, teams that edged the Cougars at the Mountain Region Championship eight days prior. Eyestone's squad beat the odds, defeating NAU – the three-time defending champions and heavy favorites – by a sizable margin of 54 points, 109-163.
The team did not have an easy start to the season, though. After winning the BYU Autumn Classic, BYU placed second in the Bill Dellinger Invitational to eventual ninth-place finisher Oregon. After a less than satisfactory finish at the Dellinger Invitational, the Cougars dug in deep and came together as a team. They captured first-place at the Pre-Nationals Invitational behind an individual meet title from sophomore Conner Mantz and a fourth-place finish from Jacob Heslington.
BYU took home the West Coast Conference championship and finished 1-2-3-5-7 for a score of 18 points. Six Cougars were named to the All-WCC First Team along with one earning a spot on the Second Team. Eyestone received his seventh WCC Coach of the Year award.
All-American Mantz went undefeated in the first four meets of the season, capturing the individual titles at the BYU Autumn Classic, Bill Dellinger Invitational, Pre-Nationals Invitational and the WCC Championships. He finished third at the national meet, BYU's highest individual finisher since 2006 when Josh Rohatinsky was the national champion.
The Cougars received many key contributions from fellow All-Americans Danny Carney and Heslington. The All-American combo finished 17th and 21st at the national meet, placing ahead of the first NAU finisher. Sophomore Brandon Garnica steadily improved throughout the season, earning All-WCC First Team honors en route to a 42nd-place finish at nationals, two spots away from being named an All-American. Matt Owens ran the first 10k of his career at nationals, bringing home a huge 45th-place finish.
Eyestone became the first person in NCAA history to win an individual cross country title (1984) and coach a team to a title. He was also named 2019 National Coach of the Year.
2019 NCAA Final Results
Terre Haute, Indiana, November 23, 2019
31 Teams, 10K
Team Place
School
Individual Finishes
Points
1
BYU
3, 17, 21, 42, 45
109
2
Northern Arizona
18, 28, 31, 40, 46
163
3
Colorado
2, 7, 32, 48, 75
164
BYU Scorers
Place
Runner
Time
3
Conner Mantz*
30:40.0
17
Danny Carney*
31:05.7
21
Jacob Heslington*
31:10.5
42
Brandon Garnica
31:21.3
45
Matt Owens
31:25.4
*Awarded All-America honors
Coach Ed Eyestone named NCAA Cross Country Coach of 2019
2006 - Josh Rohatinsky wins NCAA individual title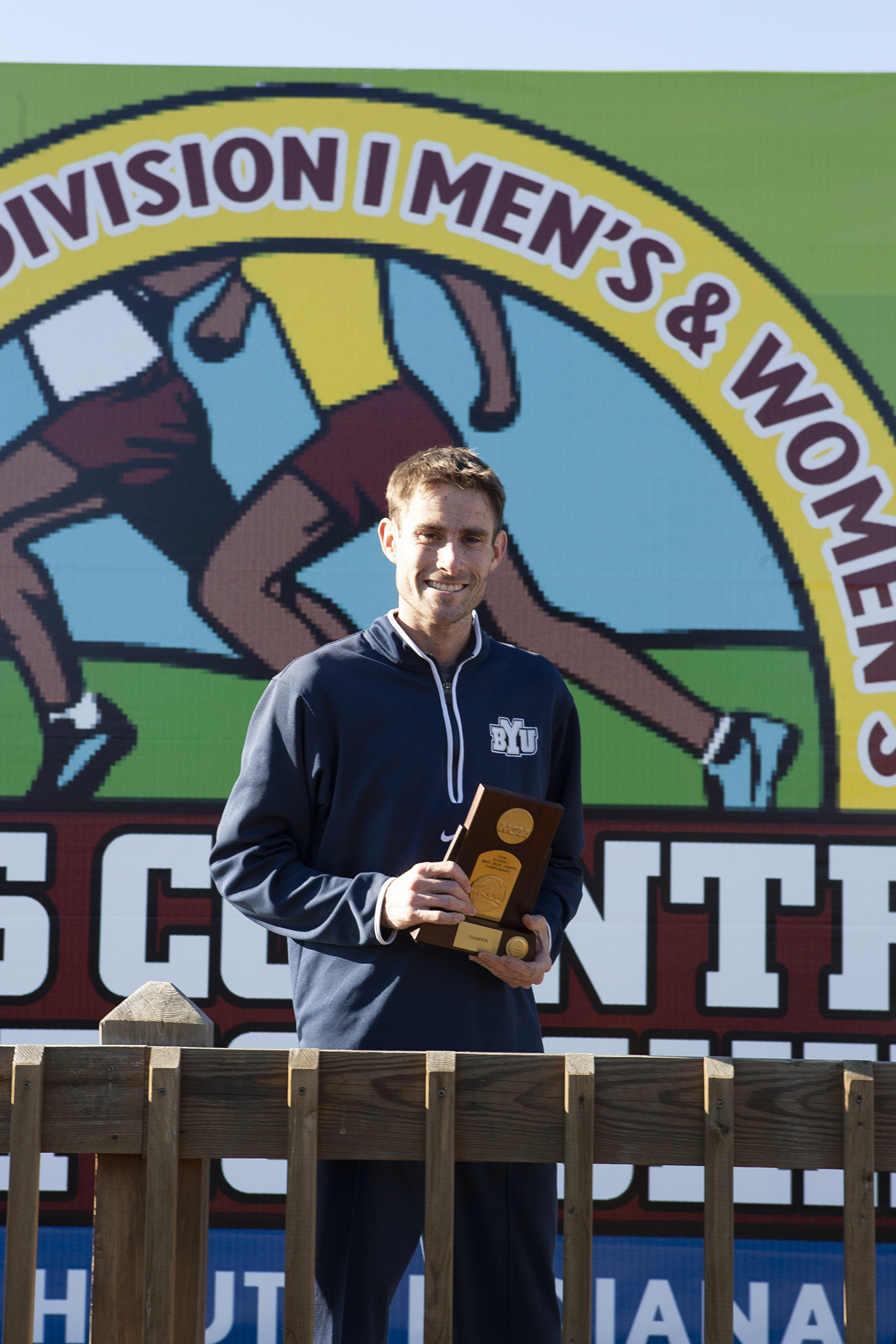 Josh Rohatinsky claimed the men's NCAA individual title at the 2006 NCAA Division I Cross Country Championships in Terre Haute, Indiana. Rohatinsky crossed first with a time of 30:45 to capture the title and was coached by Ed Eyestone, who won the program's first individual title in 1984.
1984 - Ed Eyestone wins first NCAA individual title in program history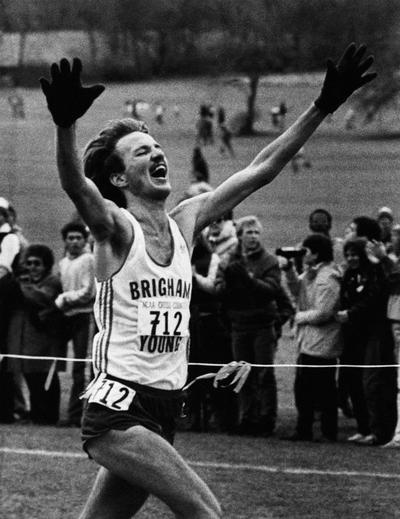 Ed Eyestone won the men's 10K race at the 1984 NCAA Division I Cross Country Championships to deliver the first men's individual title in program history. He finished the race on the Penn State Golf Course in 29:28.8 to claim the championship, nearly seven seconds ahead of the next finisher. Eyestone is one of four runners (as of 2021) to capture the NCAA "triple crown" by becoming the NCAA Champion in cross country, the 5000m and the 10,000m within one school year (1984-85).