The 1981 BYU men's golf team was the first Cougar team in any sport to win an outright NCAA Championship, defeating Oral Roberts by two shots at Stanford Golf Course in California. The Cougars won the title after finishing runner-up in 1980.
BYU had finished in the top 5 in the NCAA Championships for eight straight years before winning the title in 1981.
Dick Zokol was the low BYU scorer in the tournament, including a second-round score of 66. He finished eighth overall, followed by Keith Clearwater at 10th and Rick Fehr at 15th. Zokol, Clearwater and Barry Willardson were All-Americans.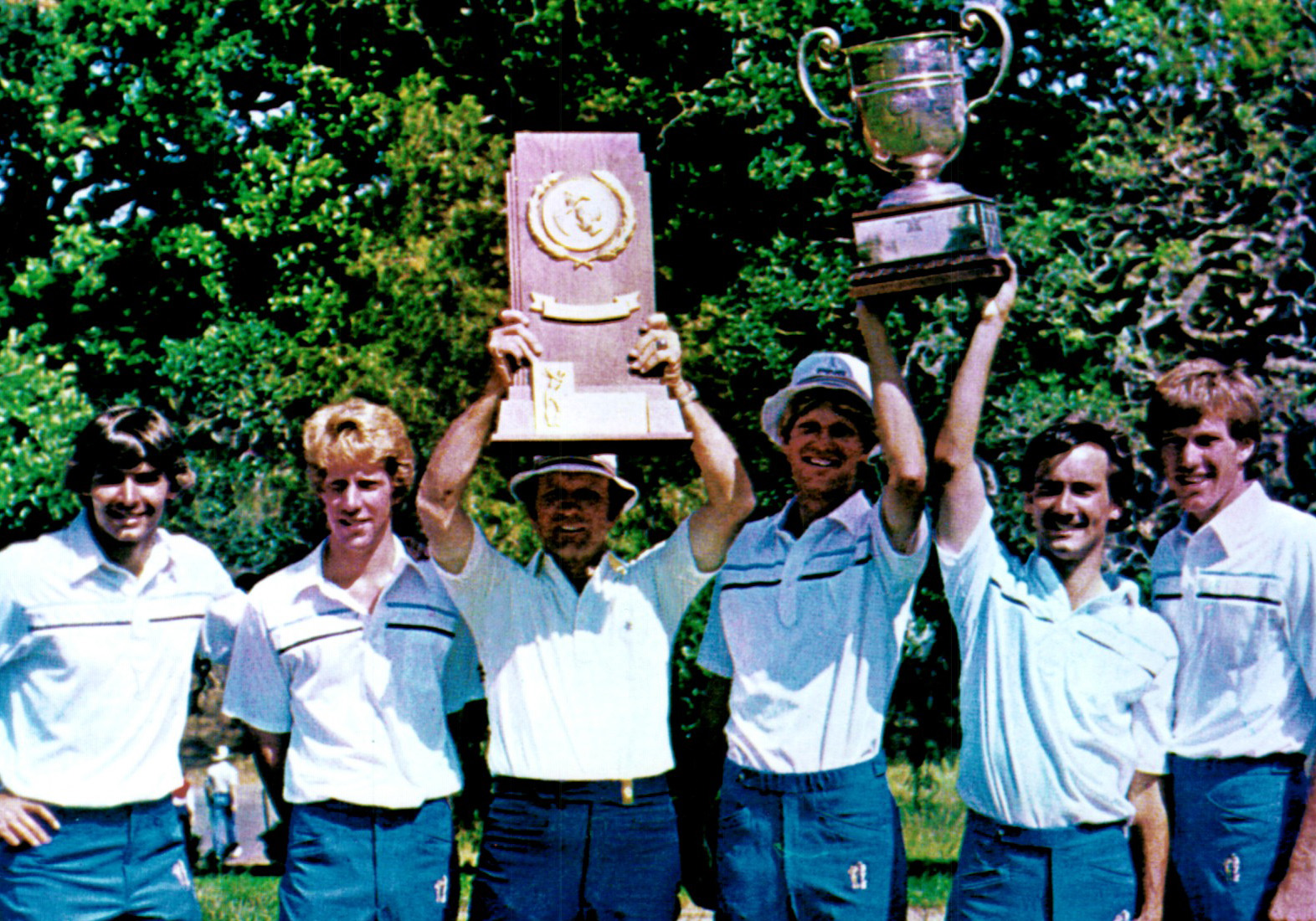 1981 NCAA Champions
By Karl Tucker — BYU Head Coach
To be the first BYU team in any sport to win an outright NCAA Championship is not only a distinct honor, but the realization of a 20-year dream. Who would have thought that in exactly 20 years this great event would take place? What a thrill for me and my team to reach this pinnacle of success.
It would be impossible for me to put my finger on any one single thing, event or circumstance that helped to bring this about. What ingredient had we lacked in the past that all at once we found to finally gain this prize? After finishing second in 1976 and 1980, and 4th in 1977 and 1979, it became apparent that someday BYU would win the NCAA golf title.
I believe it goes back to a year ago when we finished second behind Oklahoma State at Ohio State last year. BYU and Oklahoma State were all even after 16 holes. Oklahoma State made a couple of key shots at that time that we couldn't duplicate and consequently we lost by four shots. I believe that was the first time we really knew we could win this tournament in the near future.
In 1979, Bobby Clampett, three time All-American and twice named the outstanding player in the NCAA, was contemplating turning professional. There were many who felt he was 80-percent of our team and without him we were just another good team — certainly not good enough to win the NCAA. One Bay Area writer speculated that "with Clampett the 1981 Cougars would be awesome." Without Clampett, the writer said, "BYU would be great."
However, those who didn't believe this were myself, and returning team members Dick Zokol, Keith Clearwater, Barry Willardson and David DeSantis. Bobby had worked so hard to make this a championship team that I'm sure he felt we were going to be better than just average. We were fortunate enough to secure two of the most outstanding freshmen in the country, Rick Fehr of Seattle, Washington, and Robert Meyer of Sacramento, California. We also had some other outstanding players returning besides those mentioned above (John Bodenhamer, Kent Kluba and Neil Finch).
Although we started the fall season by winning the first tournament of the year, we didn't win again until the fifth and final tournament of the fall schedule. In the meantime, Bodenhamer became afflicted with Hodgkin's Disease and had to leave school. My wife, Joanne, became ill due to kidney failure and had to have a kidney transplant. This meant prolonged periods of time when I would be away from my team and put added responsibilities and challenges on them that they otherwise would not have had to accept. I believe these experiences brought us closer together and made us forget our individual problems and put our minds and hearts together for the purpose of accomplishing the two main goals for the year that we had set: To win the WAC and the NCAA Championships. Winning five tournaments and being ranked No. 1 through the national polls boosted our confidence.
We defended our WAC Championship by 22 strokes; however, we were without an individual medalist all season. Rick Fehr finished fourth in both the Pan-American and Rafael International in Mexico. Keith Clearwater placed second at Guadalajara (shooting 66 the last round to help us win there) and fourth in the Fresno State Classic. Barry Willardson was runner-up in the WAC and shot a 67 at the Western Intercollegiate to be in strumental in our victories there. Dick Zokol firing a 67 and 68 the last two rounds of the Cougar Classic and the WAC helped pace those team victories. Add to these steady performances throughout the year by Robert Meyer, Kent Kluba, David DeSantis and Neil Finch you set the stage for the most important event of the year — the NCAA at Stanford.
After getting off to a shaky start the first day with a 10-over-par 294, we trailed the leader Oral Roberts by eight strokes. We came back the second day with the best round of the tournament, a four-under-par 280. This gave us a five-shot lead over Texas A&M, and a six-shot lead over Oral Roberts and Houston. Our toughtest test came on the third day when we went 11 over on the first nine holes, but played the back side one over par. This was probably the turning point of the tournament.
We started out slow on the final 18 holes and picked up the momentum going into the 15th hole, holding a one-stroke lead over Oral Roberts. By this time it was a two-team race between BYU and Oral Roberts. Going into the final hole we had a three-shot advantage with only Zokol left to finish. He secured the championship for us with a great 5.
There were many outstanding performances turned in by members of this national championship team. Most memorable was Dick Zokol's great 66 in the second round and his total of 288, which was good for eighth place, and low BYU scorer. Keith Clearwater scored when needed, particularly the last day with a 70. His 289 total was good for 10th place, and the steady play of Rick Fehr, a freshman from Seattle led to his rounds 72-69-77-72—290, good for 15th.
1981 National Championship — Final Team Results
| Team | Round 1 | Round 2 | Round 3 | Round 4 | Total Score | Position |
| --- | --- | --- | --- | --- | --- | --- |
| BYU | 294 | 280 | 296 | 291 | 1161 | 1 |
| Oral Roberts | 286 | 294 | 291 | 292 | 1163 | 2 |
| Houston | 289 | 291 | 294 | 296 | 1170 | 3 |
| Oklahoma State | 297 | 295 | 292 | 287 | 1171 | 4 |
| Arizona State | 293 | 288 | 297 | 294 | 1172 | 5 |
| Georgia | 294 | 294 | 297 | 291 | 1176 | 6 |
| New Mexico | 288 | 298 | 294 | 300 | 1180 | T7 |
| Tennessee | 302 | 285 | 295 | 298 | 1180 | T7 |
| Wake Forest | 303 | 293 | 292 | 294 | 1182 | 9 |
| Texas A&M | 293 | 286 | 300 | 304 | 1183 | 10 |
| Colorado | 297 | 290 | 300 | 298 | 1185 | T11 |
| USC | 300 | 292 | 299 | 294 | 1185 | T11 |
| Utah State | 304 | 293 | 288 | 301 | 1186 | 13 |
| Florida | 307 | 292 | 291 | 298 | 1188 | 14 |
| Florida State | 299 | 297 | 295 | 298 | 1189 | 15 |
| Texas | 294 | 289 | 306 | 302 | 1191 | 16 |
1981 National Championship — Final BYU Individual Results
| Player | Round 1 | Round 2 | Round 3 | Round 4 | Total Score | Position |
| --- | --- | --- | --- | --- | --- | --- |
| Richard Zokol | 76 | 66 | 72 | 74 | 288 | T8 |
| Keith Clearwater | 73 | 71 | 75 | 70 | 289 | T10 |
| Richard Fehr | 72 | 69 | 77 | 72 | 290 | T15 |
| Dave DeSantis | 74 | 74 | 75 | 76 | 299 | T52 |
| Barry Willardson | 75 | 78 | 74 | 75 | 302 | T68 |
Quotes About the 1981 NCAA Championship
BYU President Jeffrey R. Holland
"It is no secret that we have had an outstanding golf program for many years at BYU, but we are particularly proud of the national championship won by BYU's team this past season. The NCAA golf title is especially gratifying in that it is the first national collegiate sports title we have ever won outright at Brigham Young University."
Athletic Director Glen Tuckett
"1980-81 was a storybook athletic year at Brigham Young University. Someone once stated that there is no 'letter I' in the word 'team.' The culmination of this great year came when the first-place NCAA golf trophy was awarded to the best golf coach and the finest golf team in the United States."
Assistant Athletic Director Pete Witbeck
"Winning the NCAA golf championship is the epitome of collegiate golf. This came about through hard work, goals and dedication. The championship is a compliment to our coach, team and all of us in the athletic department commend them for this great honor."
Head Golf Coach Karl Tucker
"It is the absolute ultimate in athletics to reach the top in our business — NCAA Golf. By far it is my greatest thrill in over 35 years of sports competition."
Buck Dixon, former BYU Golf Coach
"I'm immensely proud of Karl and his great coaching accomplishments. Of his record, you'd have to say he's the all-time greatest BYU coach. He just seems to have great golfers coming out of the woodwork each year."