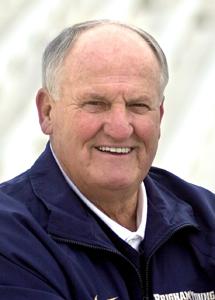 A coaching icon, whose success and longevity are paralleled by few, LaVell Edwards guided Brigham Young to heights never before reached in the program's illustrious history. For 29 seasons, Edwards roamed the sidelines at BYU, a tenure that ranks him fifth all-time for coaches at one school. He won 19 conference titles during his tenure.
Guiding BYU to 22 bowl game appearances, winning seven, Edwards reached the pinnacle of coaching success in 1984 by winning the national championship. His 257 wins rank him seventh in NCAA Division I-A history, and he has more victories than every other coach in BYU history combined.
At the helm, Edwards has compiled a program best .716 win percentage, coached one Heisman Trophy winner, two Outland Trophy recipients, four Davey O'Brien awardees and 31 All-Americas and four College Football Hall of Famers. BYU's success didn't come without personal reward for Edwards either. He was named NCAA District 8 Coach of the Year eight times, Bobby Dodd National Coach of the Year in 1979 and AFCA National Coach of the Year in 1984.
Edwards passed away at the age of 86 on Dec. 29, 2016, surrounded by his family in Provo.
Career Highlights
Paul "Bear" Bryant Lifetime Achievement Award (2013)
College Football Hall of Fame inductee (2004)
State of Utah's Coach of the Century
State of Utah Sports Hall of Fame
BYU Hall of Fame
Football stadium named LaVell Edwards Stadium in his honor
6th all-time among FBS head coaches with 257 wins
Football Bowl Association Champions Award (2011)
NCFAA Contributions to College Football Award (2009)
Amos Alonzo Stagg Award (2003)
Eddie Robinson Coach of the Year (1984)
Kodak Coach of the Year (1984)
AFCA Coach of the Year (1984)
Boddy Dodd Coach of the Year (1979)
National Championship (1984)
Five former players also in College Football Hall of Fame
Players coached won a Heisman Trophy, Maxwell Award, Doak Walker Award, seven Sammy Baugh Trophies, four Davey O'Brien trophies and two Outland Trophies
19 conference championships
22 bowl games
6 All-American quarterbacks
257-101-3 overall record
Winningest FBS Football Coaches

| Name | Years | Wins | Losses | Ties | Pct. |
| --- | --- | --- | --- | --- | --- |
| 1. Joe Paterno | 45 | 409 | 136 | 3 | .749 |
| 2. Bobby Bowden | 44 | 377 | 129 | 4 | .743 |
| 3. Bear Bryant | 38 | 323 | 85 | 17 | .780 |
| 4. Pop Warner | 44 | 319 | 106 | 32 | .733 |
| 5. Amos Alonzo Stagg | 57 | 314 | 199 | 35 | .605 |
| 6. Frank Beamer | 35 | 278 | 144 | 4 | .657 |
| 7. LaVell Edwards | 29 | 257 | 101 | 3 | .722 |
| 8. Tom Osborne | 25 | 255 | 49 | 3 | .836 |
| 9. Lou Holtz | 31 | 239 | 118 | 7 | .669 |
| 10. Woody Hayes | 33 | 238 | 72 | 10 | .759 |