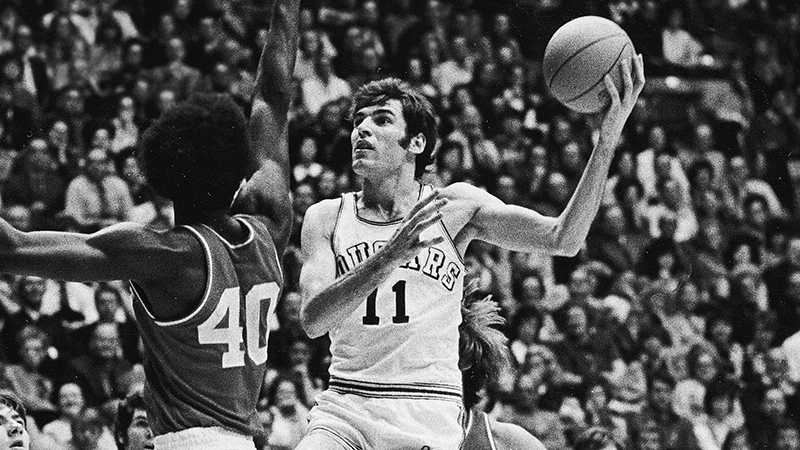 KRESIMIR COSIC: BASKETBALL HALL OF FAME INDUCTEE
Few players in BYU history have been able to capture the hearts of Cougar fans like Kresimir Cosic did from 1970-73. The 6-foot-11 center from Zadar, Yugoslavia, entertained fans during his stellar career with his enthusiastic, guard-like play.
Whether it was leading the fastbreak, dribbling between his legs or shooting a sky-hook, Cosic's enthusiasm and on-court antics endeared him to almost everyone who saw him play.
During his career at BYU, Cosic used his versatile inside-outside game to lead the Cougars in scoring (23.3) and rebounding (13.0) as a junior and again as a senior (20.2 points per game). His unselfish attitude helped him to lead his team in assists.
He ranks second on BYU's all-time rebounding list with 919, an average of 11.6 per game, and fourth all-time with a 19.1 career scoring average while recording a BYU-record 47 double-doubles. He was a three-time first-team All-WAC selection and an All-American his junior and senior years. He likely would have been a four-year all-conference award winner but freshmen at that time were not allowed to play on varsity. Behind the play of Cosic, the Cougars won two WAC titles and reached the NCAA Regional Tournament in 1971 and 1972.
Upon graduation, Cosic became very much involved with basketball throughout Europe. He had offers to play in the NBA from the Boston Celtics and Los Angeles Lakers but he chose to return home and play for the Yugoslavian National Team for $250 a week. Cosic played on four Olympic teams with his native land, winning a gold medal in 1980 and two silver medals in 1968 and 1976. He ended his career as his countries all-time scoring leader and went on to coach the Yugoslavian national team for many years.
His national and international accomplishments led to his induction into the Basketball Hall of Fame in Springfield, Mass., on May 6, 1996, making Cosic the first BYU player and second Cougar along with former coach Stan Watts to receive the prestigious honor. He is also a member of the Utah Basketball Hall of Fame, inducted in 2001.
In September of 1992, Cosic was appointed as deputy ambassador for Croatia to the United States. He and his family lived in Washington D.C where he performed his diplomatic duties in the same excellent manner in which he played basketball.
On May 25, 1995, Cosic lost his battle against the toughest opponent of his career – cancer. During his 46 years on earth, Cosic became one of the most influential and well-known of all European basketball players. He left behind the legacy and credit of being the individual that first introduced the American game of basketball to Europe.
During the 2005 NCAA Men's Basketball Tournament, CBS Television analyst Billy Packer singled out Cosic while discussing the quality of international players playing college basketball. Said Packer, "Kresimir Cosic, who played at BYU, was really the first great international player to play college basketball in the United States."
Cosic played in BYU's first game on the Marriott Center floor in 1971. His No. 11 jersey was retired by BYU on Mar. 4, 2006 in a halftime ceremony with 20,732 fans in attendance, which was also the last time the original Marriott Center floor was used before being replaced during the summer of 2006.
"It's very impressive that Kreso is not forgotten here," said Cosic's wife Ljerka, through her daughter Ana, at the retirement ceremony. "Kreso never forgot Provo. He loved his Croatia and always spoke of it as the most beautiful place on Earth, but Provo forever remained his second home. Provo and BYU marked his life forever."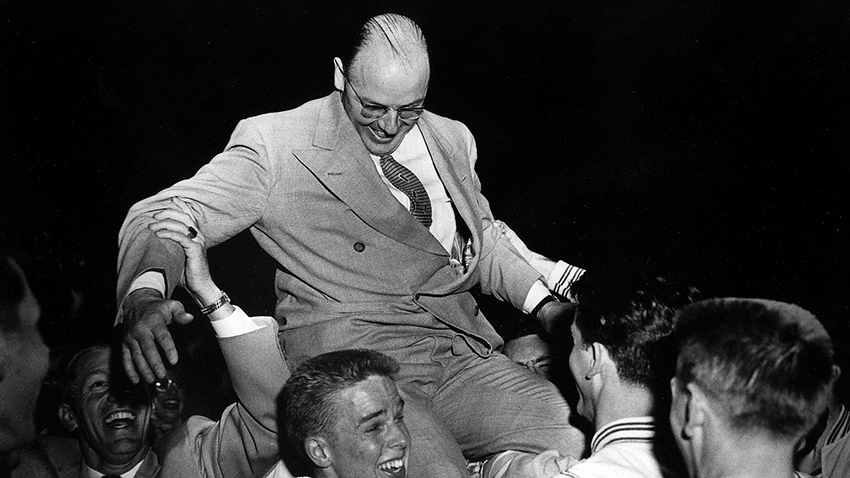 STAN WATTS: BASKETBALL HALL OF FAME INDUCTEE
When considering the most influential individuals in BYU basketball history, Stan Watts has to be placed at the top of the list. During his 23 years at the helm of the Cougar basketball program, Watts led his teams to two NIT National Championships (1951, 1966) and oversaw the construction of the George Albert Smith Fieldhouse and the Marriott Center.
His nationally recognized accomplishments led to his induction into the Basketball Hall of Fame in Springfield, Mass., on March 6, 1986, making him the first Cougar to receive the prestigious honor. Watts finished his career after the 1971-72 season with an overall record of 371-254 (.594).
He was a member of the NCAA's Rules Committee, served as president of the National Association of Basketball Coaches and chaired the U.S. Olympic Basketball Committee in 1976. Watts also served six years as BYU's athletic director and spent time on the Cougar football and baseball coaching staffs.
Even more impressive than his remarkable accomplishments as a coach is his impeccable character as a human being. He is respected by coaches, fans and players alike for his conduct both on and off the court.
"His won-loss record speaks very well for the kind of coach he was," said former player Harold Christensen, who played for Watts on the 1951 championship team. "His reputation among his fellow coaches suggests how much they respected him. He still has that and is still honored in the community in which he coached."
Always a fighter, Watts overcame a rare form of cancer in 1971—only the fourth-known case of this type of cancer in medical history. Despite the fact that the other three individuals died, Watts refused to give up. After 14-hours of surgery and a two-month stay in the hospital, Watts returned to coach his team to a WAC Championship the following year.
Known for his fast-break style of offense, Watts remained an avid Cougar fan. He once said, "It has always been our contention that the average basketball fan likes to see fast-scoring, speedy, exciting basketball."
By looking around the Marriott Center during a Cougar game, there are hints that Watts has been there. The glass-encased exhibit in the halls outside the arena pays tribute to one of the greatest coaches and individuals ever to grace the sidelines of a BYU athletic contest — as do the two NIT Championship banners and the WAC title banners from 1965, 1967, 1969, 1971 and 1972.
"The greatest tribute I can pay to Stan Watts," said retired Senior Associate Athletic Director Pete Witbeck, who was BYU's NCAA compliance officer and former assistant to Watts for many years, "is he's truly a man of God. He's always been a gentleman and great man. You don't see that very often."
A banner a banner acknowledging Watts' membership in the Naismith Basketball Hall of Fame was unveiled at halftime of BYU's game vs. Wyoming on March 5, 2011.
Watts passed away April 6, 2000, at the age of 88.